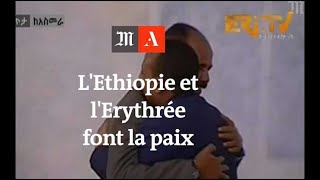 Eritrea and Ethiopia are no more in war
The energy potential of Mozambique
Eritrea and Ethiopia are no more in war

Eritrea and Ethiopia signed a joint declaration on Monday (July 9th) in Asmara, formalizing their rapprochement and stating that the two countries are no longer at war, Eritrean Minister of Information Yemane Gebremeskel said. Following a historic meeting between Eritrean President Isaias Afwerki and Ethiopian Prime Minister Abiy Ahmed, the two leaders signed on Monday a "joint declaration of peace and friendship," said Yemane on his Twitter account.

The energy potential of Mozambique

Le dessous des cartes (an original production by Arte TV) questions the energy potential of Mozambique. That country of the southern part of the continent already exports 2/3 of the electricity it produces. But the possibilities are far from over.